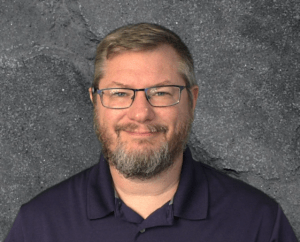 Hi! Thanks for coming by.
I'm Daniel, a theology teacher. I help people understand the Bible better so they can know Jesus better and love him more in every area of their lives. I really believe that "theology is for everyone," and I hope that you will find a great benefit from the materials I offer here.
If you subscribe to my newsletter, you will receive notifications of new posts, information, and resources, sometimes before they are made available publicly.
I would love to hear your comments and questions. You can follow me on Facebook and YouTube. I also encourage you to join our private Theology is for Everyone Facebook group where you can ask any Bible and theology question you want and get answers straight from me.

Bio
My wife and I have been married since 1997, and we have three sons, one daughter, and two daughters-in-law. In my free time I enjoy reading, writing, golf, basketball, and just spending time with my family.
I love teaching people the Scriptures, and it's a special joy when I see their studies begin to "click."
I have been part of the leadership team at Oak Tree Community Church since 1996, but in June 2002, the people asked me to be their Teaching Pastor, which I continue to do.
I have also had the privilege of serving with these fantastic schools either currently or in the past:

Education
Doctor of Ministry (D.Min.), Trinity Graduate School of Apologetics and Theology (Kochi, India), 2020
Dissertation: "Biblical Discipleship: Recovering the Process for Helping People Follow Jesus"
Master of Theology (Th.M.), Tyndale Theological Seminary (Hurst, TX), 2017.
Thesis: "Theological Training in the 21st Century"
Bachelor of Arts in Pastoral Studies (B.A.), Faith Baptist Bible College (Ankeny, IA), 1996.


Writing and Speaking
You can check out my published works here and contact me for speaking engagements or if you have Bible or theology questions.
Affiliate Disclosure: Some of the links found throughout this site are affiliate links. If you choose to make a purchase, I will earn a small commission with no additional cost to you. I recommend products only when I think they may be beneficial to your Bible study or when I review them. Do not purchase any product or resource unless you think they will help you. Resource suggestions or links do not mean that I agree with or endorse everything the publisher or author has produced.