It saddens me to have to write this. Just over two weeks ago, my friend, Dave James, wrote his final post on Facebook. He didn't know it would be his last.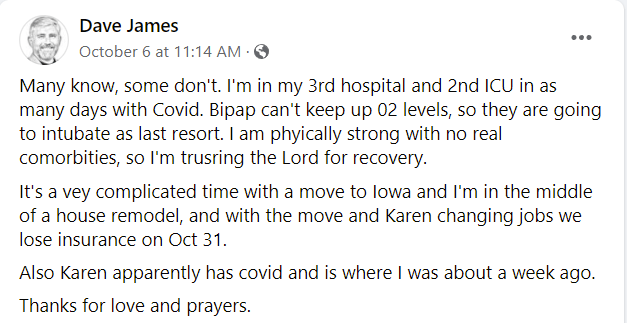 Although we both lived in Indiana, and I had heard his name since about 1990, I officially met Dave for the first time in our church in June 2019 when we did a conference together. (You can watch the conference sessions at https://www.oaktreechurch.com/sermon-series/2019-dispensationalism-conference).
We worked together again that same year in July (Ethiopia) and September (Uganda). 2020 saw us back together in Ethiopia again, and that was the last time I saw him in person. We spoke on the phone and online often about theology and technology.
In 2020, we also helped start a new international society intent on helping people understand the Bible properly (https://biblicalhermeneutics.org). He was interested in my "Theology is for Everyone" (https://theologyisforeveryone.com), and I in his "Alliance for Biblical Integrity" (https://www.biblicalintegrity.org). With nearly identical goals and beliefs and lots of mutual friends, Dave and I hit it off immediately.
Our time serving together was very short, but I'm glad to have been able to spend a couple of years, not just on the same team as Dave, but on the court at the same time. I know he had much that he still wanted to do, but it seems God's plan for Dave has been fulfilled.
What if today is your last post?
None of us know which post will be our last. Dave was confident he would recover and be studying, teaching, and writing again soon. Instead, he's in the presence of the Savior he told others about for decades. He may not have wanted to go, but he was ready.
Can you say the same thing? Are you ready to meet God if today's post is your last?
On Dave's website is his explanation and invitation for you to carefully consider Jesus' offer of forgiveness in this life and eternity with him in the next. Would you take a few minutes and read it at https://www.biblicalintegrity.org/eternity?
Dave's "Gospel in 25 Words"
The Lord Jesus Christ died on a cross for our sins, arose from the grave, and eternally saves all who turn to Him in faith.
"For God so loved the world that He gave His only begotten Son, that whoever believes in Him should not perish but have everlasting life." (John 3:16, NKJV)
Questions about eternity or the Bible?
Contact me, and I would be happy to tell you about the Jesus that Dave knew and loved and does even more so now.
: